Gourmet Baguette by Bella Gluten-Free
TWO minutes active prep for the dough leaves me plenty of time to pick my favorite picnic noshes.
Servings: Makes 1 large loaf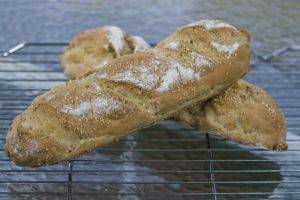 Line a baking sheet with parchment paper or lightly spray. Preheat oven to 375 degrees.
Pizza
Prepare one cup Bella Gluten-Free Gourmet Italian Pizza Crust Mix. Stir until it forms a soft ball. With wet hands shape the dough into a log shape about 2 iches in diameter. Score the top with sharp knife, about a 1/4 inch deep if desired.
Bake in oven for 20-25 minutes until baguette is golden brown and is firm to touch. Add to your picnic basket...Yum!
---