Ellie's Banana Bread Recipe by Bella Gluten-Free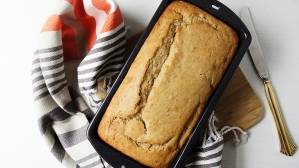 1 cup Bella Gluten-Free All Purpose Baking Mix
¼ cup potato starch or cornstarch
2 teaspoons gluten-free baking powder
pinch of salt
8 tablespoons unsalted butter, slightly softened (or butter alternative)
½ cup light brown sugar
2 large eggs (or egg alternative)
3 large very ripened bananas
½ cup applesauce
pinch of cinnamon
Pre-heat the oven to 350 degrees Fahrenheit. Line a 9 x 5 x 3 loaf pan with parchment paper and grease with butter or cooking spray.
Sift together Bella Gluten-Free All Purpose Baking Mix, cornstarch, baking powder and salt. Set aside dry ingredient mix.
In a separate bowl cream the butter and sugar using a hand held or standup electric mixer.
Add in the eggs and beat again until well combined.
In a third bowl, mash the bananas, applesauce and cinnamon together using either a potato masher or a fork. Mash as well as you can so no lumps remain.
Beat the banana mixture into the butter mixture until combined.
Slowly add the dry ingredient mixture into the wet mixture in batches, beating well each time to mix. It will be quite a thick batter.   Pour into pan.
Bake for 1 hour or until the top is golden brown and the middle is cooked through so an inserted toothpick wipes away clean. Serve either warm or cool.
 
---