Double Chocolate Zucchini Bread Recipe by Bella Gluten-Free
A simple substitute cup-for-cup Bella Gluten-Free All Purpose Baking Mixfmakes a beautiful gluten-free, dairy/casein-free loaf. I took the liberty of adding cocoa powder and chocolate chips for a double chocolate version...but the Esther's original recipe is equally scrumptious. Simply omit the cocoa powder and chocolate to make the classic loaf. Thanks Ester. I always love to find that Bella Gluten-Free All Purpose Baking Mix does what it is supposed to do. Make gluten-free living easy.
Servings: Makes 16 servings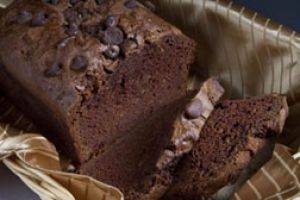 4 eggs
2 cups sugar ( 1 cup white/ 1 cup brown)
1 1/2 cup uncooked zucchini, peeled and shredded
1 cup veggie oil such as canola, walnut, or sunflower
2 cups Bella Gluten-Free All Purpose Baking Mix
1 tsp baking soda
1 tsp baking powder
1 tsp ground cinnamon
1 tsp vanilla
1 cup chopped walnuts (optional)
1/2 cup cocoa powder
1 cup gluten-free chocolate chips such as Tropical Source or Enjoy Life
In a large bowl, mix all ingredients together until well blended. Light grease a large 9x5" bread pan. Bake at 350 degrees for 40-45 minutes or until inserted knife comes out clean.

Chef's Notes: Depending upon the size of your pan you may have too much batter. Cook overflow in muffin tins or mini loaf pans for 25-30 minutes.
---