Crusty Popovers Recipe by Bella Gluten Free
These delicious mouthwatering mini-souffles are great addition to any savory meal or as a perfect breakfast or brunch bread with butter and jam.
Servings: Makes 12 servings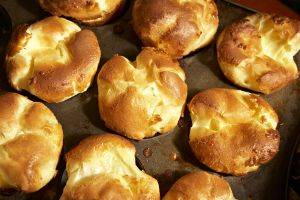 4 eggs
1 cup milk or milk alternative
1/3 cup tapioca flour
Mix it Up
Preheat oven to 425 degrees.
• Preheat a 12-cup muffin tin for 5 minutes. This is a very important step for popovers. A warm muffin tin helps to facilitate the rising of the batter. Let the tin stay in the oven until you are ready to pour in the batter.
• In a bowl, add eggs and milk and and whisk together until blended. Then add the tapioca flour, Bella Gluten Free All Purpose Baking Mix and whisk until combined.
• Remove your baking tin (remember, it will be hot.) Lightly grease with cooking spray. Pour in the batter, filling each muffin cup, 3/4 full. Fill any empty muffin cups with water to ensure even baking.
• Bake 25 minutes, or until popovers are puffed high and are a rich, golden brown. For puffiest popovers, avoid opening the oven door before 25 minutes. Serve immediately. Makes 12.
Nutmeg and Black Pepper
Add to completed batter: 1/4 tsp freshly grated nutmeg and 1/2 tsp cracked black pepper, coarsely ground.
Cheddar Cheese and Chives
Add to completed batter: 1/4 cup grated sharp cheddar cheese and 2 TBL fresh chives, chopped finely.
Herb Popovers
Add to completed batter: 2 TBL fresh herbs (such as rosemary, basil, thyme, sage or a combination), stemmed and chopped fine.
 Bacon and Parmesan Cheese Popovers
Add to completed batter: 1/4 cup finely grated Parmesan cheese and 3 TBL of crisp bacon chopped finely.
 Yorkshire Pudding Popovers
Add 1 TBL of meat dripping to bottom of muffin cups before adding batter.
Chef's Notes:
To ensure this recipe success, remember to have your muffin tin hot and no peeking for 25 minutes.
---